Ken Ganley CDJRF Painesville is Ready to Exceed Your Expectations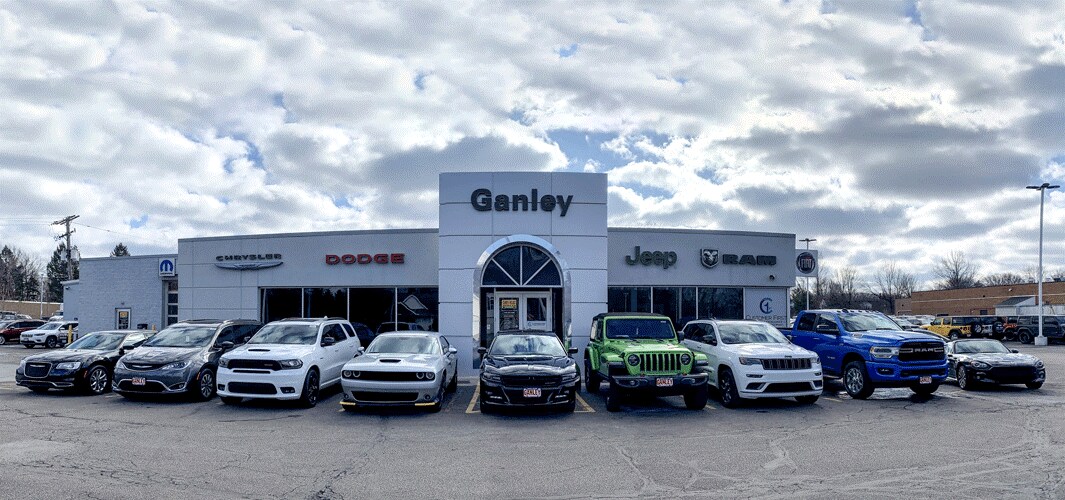 Get a Full Dealership Experience at Ken Ganley CDJRF Painesville
When it comes to getting a standout selection of quality vehicles from cars, SUVs, trucks, and minivans, we have those in the greater Cleveland area covered at our dealership. We also provide so much more than that and are more than just a car dealership. We're your neighbors who are involved in the community from sponsoring charities and good causes and events to our staff donating our time to ensure we live in a vibrant area. We're here to serve all your needs at our bilingual dealership where we speak Spanish and get you behind the wheel of a new or used vehicle, help you with auto service and parts, and much more!
Explore All Our New Vehicles for Sale and Find Your Fit
There are multiple brands under one roof, and with that, there are lots of popular vehicles. We have you covered with a robust selection of Jeep SUVs and Ram trucks, which includes the following options:
There are plenty of others available too from the Wagoneer and Grand Wagoneer to the Dodge lineup with the Charger and Challenger and Chrysler minivans the Voyager and Pacifica. We'll highlight all the different trim levels and allow you to explore the modern technology as well as the features that make the Jeep and Ram lineups go with toughness and durability, and the adventure and rugged fun you get every time you're behind the wheel. We're confident that our new lineup has appealing choices that you'll like, and are ready to help you find them with test drives and exploring them together.
Save on Both Used and Certified Pre-Owned Vehicles
If you'd like some savings over buying new, we have the pathway for you. There are many used cars here at our dealership which includes used Jeep and used Ram options, along with a variety of other cars, trucks, and SUVs for sale at affordable prices. The used lineup has you covered with several different options, and that includes certified pre-owned vehicles.
What's the difference between used and certified pre-owned vehicles? A certified pre-owned brand like Jeep, Ram, Dodge, or Chrysler has passed the automaker's standards to be sold as a used vehicle with its stamp of approval. They're lightly used and within five model years of the current model year, have less than 75,000 miles on the odometer, and have passed a 125-point inspection. You also get added warranty coverage and other perks and benefits with your purchase. Used cars might not have this approval, but every used vehicle at the dealership is a choice you know is reliable, because that's our commitment to you as we only sell the finest options out there to give you a wider range of choices and prices.
Finance with Buying and Leasing Options at Our Dealership
When you pick out a new vehicle, you have choices. You can choose to lease, or purchase. When you lease, you're agreeing to pay a percentage of the vehicle's price over set terms in a monthly payment, and when those terms are up you have options. You can choose to enter a new lease at a new payment, buy your leased vehicle at its remaining cost, or go in a different direction. Buying is when you secure an auto loan for the financing of a monthly payment and make those payments until the loan is paid off, and the vehicle is yours. Many people have different reasons for choosing either, and we're here to walk you through it all to find the best course for you.
Whether it's a new vehicle or getting an auto loan for a used car, you can use many of our online tools to help speed up that process and save time. This includes securely applying for financing and completing the paperwork online, as well as getting a value for a trade-in vehicle if you're going to use your current ride to upgrade to another. These allow you to work on your schedule, and from the comforts of home or the office, so you can get in focused, ready, and get your next vehicle sooner.
We Help You with Auto Service and Parts
Along with providing a space for you to buy your next vehicle, we're also here to maintain it and ensure you get the parts it needs to function. Our service team can help you by repairing, diagnosing, and fixing any issues from the routine to the complex, while our parts team can order and have the right parts installed on your vehicle to keep its integrity or give it some added customization. Common auto services we provide at our dealership include:
Oil changes
Fluid checks and top offs
Tire rotations
Alignments
Brake pad and rotor services
Car battery checks and installation
Inspections

Whatever it might be, we'll take a look and get your vehicle back to the best driving state possible. There are lots of benefits to getting service at the dealership. For those with new vehicles under a new vehicle warranty, it is cost-effective, and you know we are trained so you can have your vehicle serviced with us and be confident.

Visit Our Dealership Serving Painesville, Willoughby, Mentor, Mayfield Heights, and Cleveland

Here at Ken Ganley CDJRF Painesville, we serve a wide area as those from Mentor to Mayfield Heights, and Willoughby to Painesville along with the greater Cleveland area can come in and shop for new or used vehicles, and get the parts and service they need from us. We're committed to helping you online, in person, and at our service center. If you're ready to get started, get in touch with us and come through during regular business hours soon!