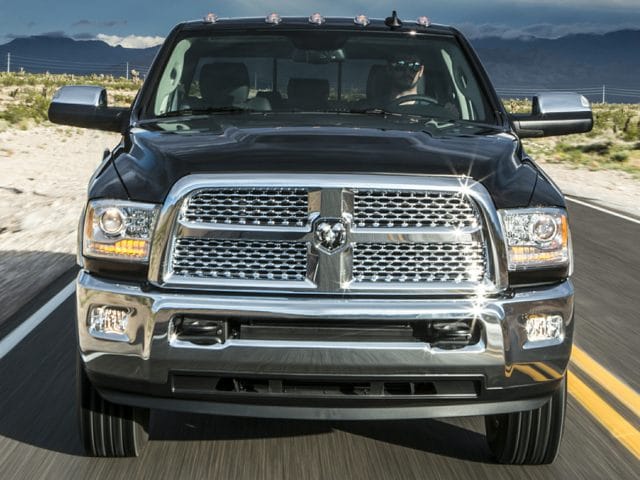 The Ram 2500 Sets Itself Apart from its Competitors in Painesville
Truck shopping requires a realistic assessment of your actual needs. If you intend to haul hefty cargo and tow oversized trailers, a full-size pickup is the way to go. In its boisterous bodied and brawny class, you are exposed to various quality brands, all promising a similar dependable approach to hard work.  However, you want the best-of-the-best; you thirst that one truck built with superior trucking traits yet comfortable enough for everyday motoring.
The Ram 2500 takes work preparedness to the next level. Outstanding strength and surprisingly luxe interior promise establishes the Ram 2500 as an unquestionably well-suited workhorse. Even against rather formidable competition, the  Ram 2500 holds its own.
The Ram 2500 vs. the Ford F-250
The Ram 2500 is more affordable.
The Ram 2500's V8 engine provides it more power.
At 3,064 lbs compared to the Ford F-250's 1,610 lbs, the Ram 2500 has a greater payload.
An extensive selection of exterior color options provide drivers with more ways to customize the Ram 2500 compared to the Ford F-250.
As a six-seater, the Ram 2500 has room for one more passenger.
The Ram 2500 vs. the Toyota Tundra
The Ram 2500 again boasts a more accommodating starting price.
The Ram 2500 is able to tow upwards of 17,310 lbs which is substantially more than the Toyota Tundra and its 6,700 lbs.
With its 383 horsepower and  400 pound-feet of torque capable engine, the Ram 2500 establishes itself as the more powerful choice.
The Ram 2500 is able to carry more weight, courtesy of its greater payload capability.
With more front head room, taller passengers experience better comfort in the Ram 2500.
Here at Ganley Village Chrysler Dodge Jeep Ram, we currently have an extensive new Ram 2500 inventory. Should you be interested in making it yours, we encourage you to visit us here in Painesville, just a quick drive over from Mentor, Chardon and Willoughby, for a test drive today.