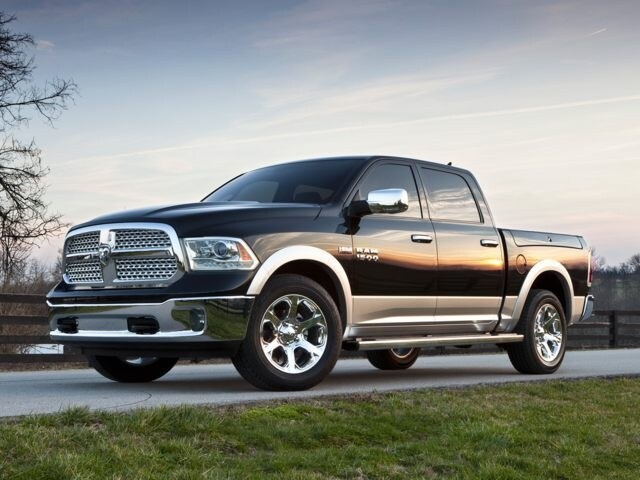 The Ram 1500 Outdoes the Competitors
Pickups play in a tough field.  Engineers are employing even more innovative systems to help retain necessary truck durability and power while achieving praiseworthy efficiency and refinement.  The traditional rulers of the game fall under three legendary American imports' branding: Ford, Chevrolet and Ram. The Ford F-150, Chevrolet Silverado and Ram 1500 all put up a good fight in this quest to modernize the once strict field-plowing, wood-hauling transport. Only one model can be considered the best of what the truck market currently has to offer, and from the looks of things, that may just be the Ram 1500.
It's competition is sizable but the Ram 1500 holds its own courtesy of its impeccable fuel efficiency, transmission offerings and starting price. Best-in-class city/hwy MPG, standard 8-speed automatic transmission and a low MSRP contribute to the Ram 1500's success. Even so, it's not all the Ram 1500 has over the Chevrolet Silverado and Ford F-150.
If you are considering a Silverado or F-150, you may want to reconsider after acquiring all the facts.
Ram 1500 vs the Chevrolet Silverado
Right now, the Chevrolet Silverado is newest pickup you can buy, provided its most recent redesign, yet, the Ram 1500 stills manage to provide more of what drivers really want.
The Ram 1500 is more safety inclined. With more standard safety features like vehicle anti-theft, turn signal mirrors and brake assist, you are promised greater peace of mind than you'd have driving a Chevrolet Silverado
Courtesy of its more impressive horsepower numbers, the Ram 1500 is more powerful than the Chevrolet Silverado
Ram 1500 vs the Ford F-150
Choosing between the Ram 1500 and Ford F-150 may seem like you a choosing an apple for an apple, due in part to a similar exterior styling. However, that is far from the truth. The Ram 1500 proves it's unlike its Ford competitor for all the right reasons.
The Ram 1500 is all about flexibility.  Its standard split bench seating makes it more accommodating than the Ford F-150.
If you are looking for innovative audio tech, the Ram 1500 is your best bet. Its auxiliary audio input and MP3 player has music junkies choosing Ram over Ford.
Drivers in the Painesville, Mentor, Chardon and Willoughby region will find our current selection of Ram 1500s suiting, especially given our competitive prices. Consider flipping through our new Ram showroom, and when you spot your desired Ram 1500, join us at Ganley Village Chrysler Dodge Jeep Ram for a test drive.