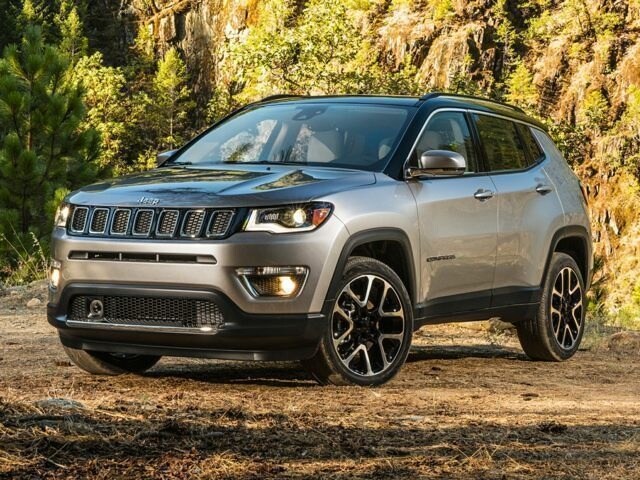 The Jeep Compass Overpowers the Competition in Painesville, OH
When the journey gets tough, you need a vehicle ready to conquer the road... or off road. You need the Jeep Compass. Loaded with capability and features, the Compass overpowers the competition in Painesville, Mentor, Willoughby, Chardon, Cleveland, and Mayfield Heights. Learn how the Compass compares to the Toyota RAV4 and Ford Escape.
Jeep Compass vs. Toyota RAV4
The Compass has a starting price of $20,995, which is almost $3,500 less expensive than the RAV4. Move up to the top model, and the Compass Limited is still almost $6,000 less than the RAV4's comparable trim.
Power comes standard in the Compass, which offers 180 horsepower and 175 pound-feet of torque. The RAV4 falls just short at 176 horsepower and 172 pound-feet of torque.
Drive further in the Compass, thanks to its 32 mpg highway rating. The RAV4's 30 mpg highway rating doesn't quite stand up.
Keyless start comes standard on the Compass. You'll have to pay over $1,000 extra just to have it as an option on the RAV4.
The Compass offers a leather wrapped steering wheel on its starting model. That'll be over $1,000 in the RAV4.
Heated mirrors are also standard on the Compass. The RAV4? You guessed it, another $1,000.
Jeep Compass vs. Ford Escape
Starting at $20,995, the Compass is almost $3,000 more affordable than the Escape's starting price.
The Compass produces up to 180 horsepower and 175 pound-feet of torque, which is superior to the 168 horsepower and 170 pound-feet of torque in the Escape.
The Compass cruises the highway at 32 mpg. The Escape won't let you escape the gas pump, because it only gets 29 mpg highway.
Enjoy a little refinement, thanks to the leather wrapped steering wheel, available on the starting model. That'll be an extra $1,500 in the Escape.
Useful for the Ohio winters, you'll also find heated mirrors standard on the Compass. The Escape will make you pay an extra $1,500 for this feature to even be an option.
The Compass offers keyless start as a standard feature. Get ready to pay $5,500 extra for this technology in the Escape.
Test drive the Jeep Compass today at Ganley Village Chrysler dodge Jeep Ram FIAT!