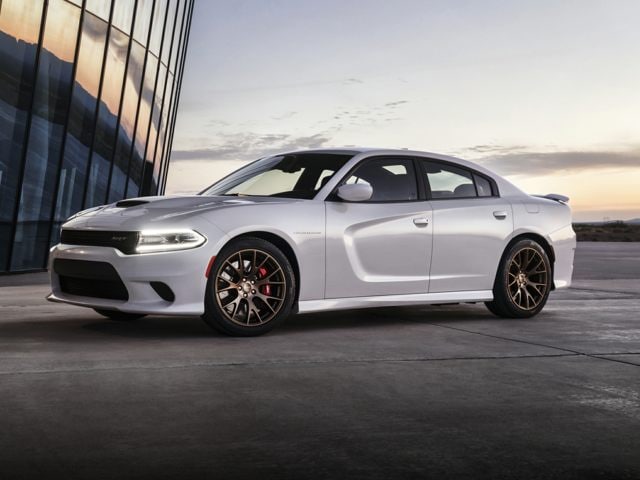 Muscle-Car Matchup: the Dodge Charger Heads Rivals from Ford and Chevy
Inside of its sultry four-door exterior, the new Dodge Charger sedan is pure beastly energy. It's an extremely popular option for drivers in Painesville, Mentor, and Willoughby looking to boost their daily ride--but it's not alone in the pack. This sports sedan is constantly being challenged by other performance cars in Ohio.
Two of the most common competitors to the Dodge Challenger around the Chardon, Cleveland, and Mayfield Heights areas is the Ford Mustang and the Chevrolet Impala. Both are iconic in their own fields, and both bring a lot to the table. Among the three cars there are a variety of similarities and differences, from sheet metal to dimensions to engines. And if you're not ready to run around test-driving all three, you may want to know a bit more about their specs and features.
You might have your heart set on a sporty Mustang or a well-equipped Impala right now, but take a few minutes to see if maybe the Dodge Charger is actually the better fit for you.
Dodge Charger vs Ford Mustang
Available in fastback or convertible style, the Ford Mustang is a stylish two-door option; the Dodge charger adopts a more convenient body style for Cleveland-area drivers who may frequently be traveling with others. The Charger is also more flexible and more versatile than the Challenger for everyday driving, offering more cargo room, more rear passenger room, and more elbow room in general than its more tightly-fitted rival.
Charger offers over 16 cu. ft. of space in the trunk, while the Mustang gives as little as 11.4 cu. ft
The Mustang can be had in convertible form--the Charger is limited to just a four-door sedan configuration
For top performance, Charger offers a 707-horsepower Hellcat engine--Mustang maxes out at 526 horsepower even in the incredible Shelby GT350 model, with basic models topping out at just 435 horsepower
Dodge Charger vs Chevrolet Impala
At first glance, the Charger and the Impala are two completely different creatures: one muscly and robust, the other opulent and sleek. Look a little closer, though, and you'll see that these two are birds of a feather. Both are comfortable, spacious sedans that are inspired by grand touring cars; packed with smart amenities and great tech features. But if you can only choose one--choose the one that will really get your heart pumping.
The Charger's trim level lineup is significantly more varied than the Impala's, giving you more choices in the model that's going to fit your life the best
The Chevy Impala offers a respectable 305 horsepower at its highest performance--but the Charger boasts 475 HP without even dipping a toe into Hellcat levels of power
Charger offers available all-wheel drive; Impala doesn't
Test Drive a New Dodge Charger in Painesville
Ready to take a deeper look into the dapper new Dodge Charger? Visit Ganley Village Chrysler Dodge Jeep Ram to check out new Charger cars for sale; to compare trim levels; to explore inventory options; and to test-drive one of the most infamous four-doors in history.