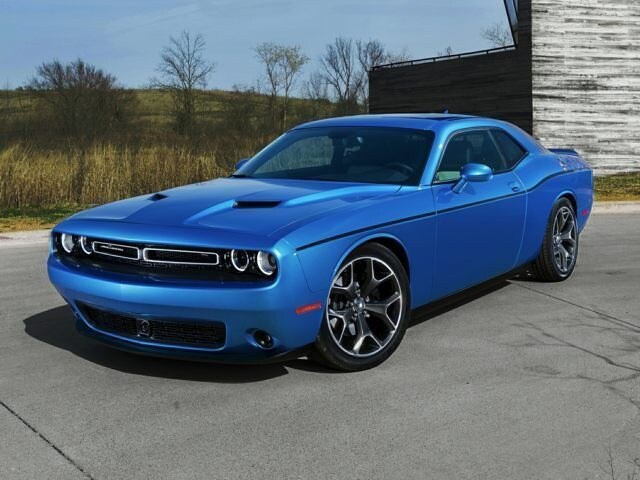 All Muscle, All the Time: Painesville Drivers Can Compare Dodge Challenger to Ford and Chevrolet Competitors
The muscle car is possible the most iconic vehicle style in history--and there are three spectacular cars in Painesville, Mentor, and Willoughby that are typically held up as the standard-bearers of legendary design: the Chevy Camaro, the Ford Mustang, and the new Dodge Challenger coupe. All are bursting with power options--ranging from sporty four-cylinder turbos to super-powered V8 engines--and your final decision may actually just come down to personal preference for style.
But, before you grab keys to a new (or used--these cars have been around for a while) Camaro or Mustang in Chardon, Cleveland, or Mayfield Heights, give us a chance to show you why the Challenger might be the better option. While the Mustang and Camaro coupes have been designed over time to be sharper and more muscularly-refined, they've also been... shrunk a little, on the inside. The Dodge Challenger, meanwhile, has long been seen as a touring coupe, whose interior is as comfortable for rear-seat passengers as it is for the driver.
If you're playing for keeps with your next musclebound performance car--and you've got your sights currently set on the Mustang or the Camaro, you might want to learn more about what the new Challenger has to offer.
Dodge Challenger vs Ford Mustang
Arguably, these two models are the two top muscle cars in the history of automotive. Both were born around the 60s and both are legendary "pony cars". You can't really go wrong with either choice, but each model offers a little something different. The Mustang has been treated to Ford's "EcoBoost" revolution, so the feel of its performance has softened just a bit in favor of better fuel economy. The Challenger will cost you a bit more at the pump, but still boasts the classic, beloved roar of a muscle car--and, 707 horses from its Hellcat V8.
The UConnect system in the Challenger is agreed by most critics to be easier, faster, and better to use than the SYNC system in the Mustang
New to the lineup, the Dodge Challenger offers available all-wheel drive--the Mustang does not
Top horsepower output for the Ford Mustang is between 435 HP - 526 HP; the Challenger? A whopping 707 HP from the Hellcat V8 engine
Dodge Challenger vs Chevy Camaro
We can admit that the new Camaro is hot. It's fun to look at, and its range of engine options and incredible customizations makes it a pretty great option for Cleveland-area drivers who want a really unique-looking car. But, the Challenger also offers a few hundred different configurations (color, engine, trim level, transmission, etc.) and is decidedly more practical for day-to-day life.
If you want some added capability in Ohio, you can get an all-wheel-drive Challenger--but you can't get an all-wheel-drive Camaro
Both options offer a great selection of V6 and V8 engine options--but the Challenger takes it to a whole new level with the Hellcat
The Camaro has a depressingly small rear seat that's really only suitable for luggage. If you're ever planning to travel with more than one other person, the Challenger is a clear better choice


Test Drive a New Dodge Challenger in Painesville
Don't settle for modern softness--check out the new Dodge Challenger available today in Painesville, to see what muscle-car performance in Cleveland is supposed to be like. Explore interior features and exterior style, take a test drive to experience Dodge power at its best. Visit Ganley Village Chrysler Dodge Jeep Ram when you're ready, or explore online today.