Ganley Village Chrysler Dodge FIAT Jeep RAM Community Involvement
Since 1966, Ganley Village has been a part of the Painesville region. Without the support of the community and the welcoming and friendly nature of its people, we wouldn't be here. We weren't just awarded the Chrysler Five Star Excellence Award because we are naturally apt to provide excellent customer service. Instead, you make our work easy: you make us smile and want to help you. And we recognize all that you and the rest of the community does for us which is why we strive to give back.
We are proud to support several wonderful events and organizations that work hard to better the community and celebrate its people: Painesville Party In The Park, Lake County Off Road, The Holden Arboretum and Quaker Steak & Lube!
Painesville Party In The Park is one of the nation's largest free musical festivals, bringing thousands from all over Ohio and elsewhere to become submersed in spectacular performances form a wide range of backgrounds--Rock, Reggae, Jazz, Blues, Funk, Soul, Motown, Bluegrass.  And with activities for the kids, 40 fantastic food vendors and a beer garden, the local grub and laughter become entangled in the beats flowing of the stage, making this more than a festival but a true summer experience.
Lake County Off Road is geared towards the 4x4, Jeep, ATV motorcyclists of the Lake County and North East Ohio region. It's mission: to protect the community's off-roading trails and promote fun and responsible riding activities.
We at Ganley Village celebrate safety, conservation, the lives of those we lost and the upbeat, music inclined lives we are living. Thank you for allowing us to serve you, Painesville; it's an honor being a part of your community.
The Holden Arboretum is an outdoor living museum on 3,600 acres that promotes the beauty and importance of trees and other woody plants. The grounds feature over 20 miles of trails that lead you through cultivated gardens and native forests. The Arboretum also features the Murch Canopy Walk, an elevated walkway 65 feet above the forest floor, and the Kalberer Family Emergent Tower, a wooden tower that rises 120 feet above the forest floor for breathtaking views of the surrounding landscape.
Ganley Village is proud to sponsor The Holden Arboretum's Canopy Walk & Emergent Tower for the 2017 season.
In addition to sponsoring many major events this year, Ganley Village also provided the Holden Arboretum a 2017 RAM 2500 to use over the next two years to accomplish their environmental goals in our community.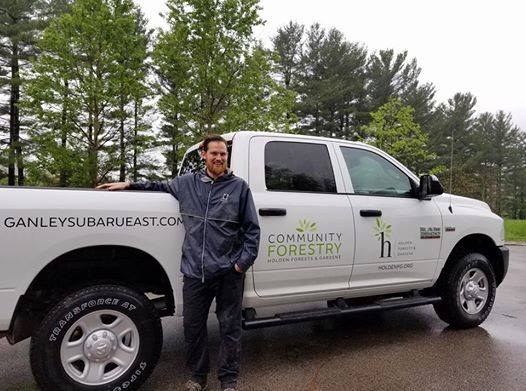 The newest addition to the Holden fleet, this truck will be used by Holden's community forester Chad Clink as he works in the community. Holden Forests & Gardens is helping to plant trees that will restore Cleveland's tree canopy and to train members of the community to care for them properly.
Quaker Steak & Lube in Mentor, Ohio not only has incredible food, they love getting involved in the community as much as we do. Check out their web page for upcoming events, fundraisers and more! We are proud to sponsor this awesome restaurant with a new Chrysler, Dodge, Jeep, Ram, or Fiat vehicle every few weeks. Check out the pictures below for some of our most recent show cars!