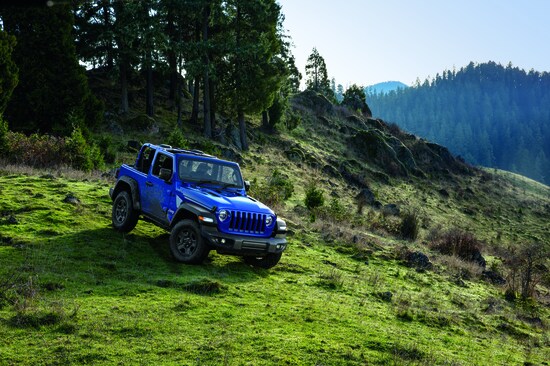 ?Summer is the perfect time to get out and have some fun in Painesville. You just simply cannot beat spending the day with the family enjoying the beautiful summer sun. While there are numerous ways to have a good time outside, you can enhance every trip by driving the right vehicle. The
new Jeep Wrangler
instantly makes every outdoor adventure more fun, which makes it the ultimate summer SUV.
Driving with the wind in your hair is a wonderful feeling. Jeep has specifically designed the Wrangler with multiple open-air options to create a driving experience you have never felt before. The One-Touch Power Top quickly exposes your hair to the wind without having to get out of the SUV. You can also opt for the collapsible soft top that can easily be lowered and raised in any weather condition. We at Ganley Village Chrysler Dodge Jeep Ram FIAT near Mayfield Heights will be happy to discuss and display the Wrangler's various tops with you at any time.
The Wrangler's open-air options go well beyond the top of the SUV. Get the full feel of the summer breeze the next time you drive around Willoughby by removing the Jeep Wrangler's doors and rear windows. You will even be able to fold down the windshield on some models. All of this can be done in a matter of seconds. The multiple open-air configurations let you customize the Wrangler to your exact preference.
The final way you can make the most of your summer with the Jeep Wrangler is by taking it off-roading. While several sport utility vehicles can handle rough conditions, none of them do it better than the Wrangler. The powerful engine, hybrid traction control system, and rugged tires on this SUV from Jeep let you drive it virtually anywhere. You will only have to take the Wrangler off-roading one time to become your new favorite summer activity.
These are just a few of the countless reasons why a new or used Jeep Wrangler makes every summer adventure around Cleveland more enjoyable. Stop by for a test drive to jump-start creating the ideal summer experience.