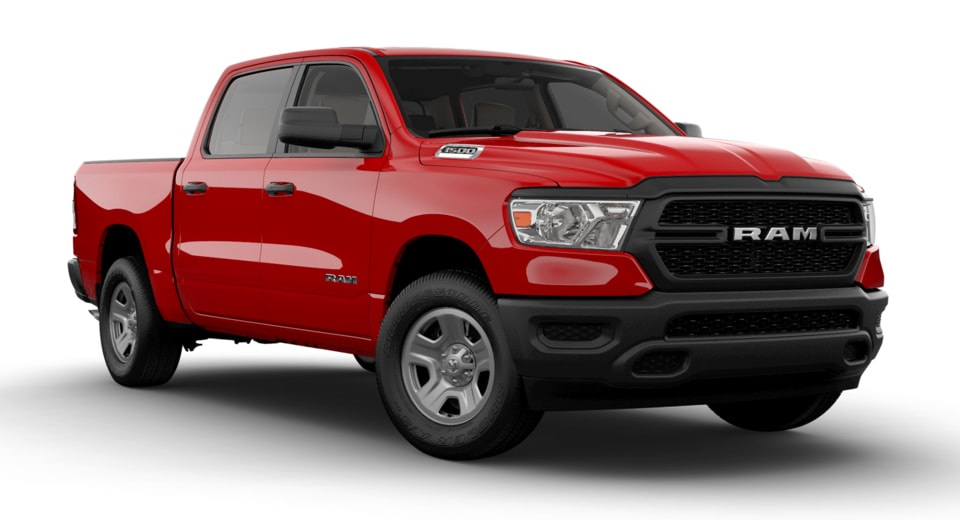 Enjoy a More Comfortable and Entertainment Working Environment than You'll Find at the Office!
The 2019 Ram 1500 is the perfect blend of work and play that drivers from Painesville and beyond can look forward to driving every day! Featuring new tech and features allowing you to travel further, work for longer in comfort, and enjoy easy entertainment from all of your devices; the 2019 Ram 1500 is a blend of excitement and versatility that can see you through anything you imagine in style. Enjoy luxurious features like heated and ventilated leather seats and a massive 12-inch touchscreen infotainment system, all in the same environment that allows you to be more productive and efficient than ever before. Drivers from Cleveland and beyond are sure to love their experience behind the wheel of the 2019 Ram 1500, available now at Ganley Village Chrysler Dodge Jeep Ram Fiat.
Enjoy Ram's 'Mild Hybrid' System for Improved Power and Efficiency
The 2019 Ram 1500 is the first to include Ram's 'Mild Hybrid' system standard on all new 2019 models. The system adds a 48-volt lithium ion battery and eTorque hybrid system to the drivetrain, delivering more torque and faster acceleration from a stop or when in full flight. In addition, drivers can enjoy greater fuel economy thanks to the mild hybrid system, and aerodynamic alterations to the grille and cargo bed. The hybrid system charges the batteries with the energy produced by your brakes, creating a regenerative loop of hybrid power that can keep you on the road and productive for longer without refueling.
New and Modern Interior Features Deliver Entertainment and Comfort
The environment inside the 2019 Ram 1500 is so luxurious and comfortable, you might forget you're in a full-size pickup truck and not a vehicle from a premium European luxury brand. Enjoy luxurious features and comforts like premium leather seating with heated and cooling capabilities, and spacious seating in crew-cab models with available heating and cooling functions as well. The 2019 Ram 1500 is Ram's version of a high-end premium luxury vehicle; theirs just happens to come with 300 horsepower and a massive cargo bed for versatility.
Entertainment and connectivity has never been easier and more impressive then inside the 2019 Ram 1500. Its Uconnect infotainment system is one of the easiest to operate and most reliable infotainment systems available, and it has improved its usefulness with an available 12-inch touchscreen, the largest of its kind ever included in a full-size work truck. Enjoy easy operation and connectivity to and from all devices, with five quick-charging USB ports included in the cabin for continued use of everyone's devices. The 12-inch touchscreen serves as the perfect navigation console for easy communication of directions and sudden detours, with voice-activation controls allowing for easy operation of the available navigation system.
Test Drive the 2019 Ram 1500 at Ganley Village Chrysler Dodge Jeep Ram Fiat
We hope to see you soon at Ganley Village Chrysler Dodge Jeep Ram Fiat for a test drive of the 2019 Ram 1500 full-size truck. The efficient yet explosive power of this new Ram truck model is something you must experience for yourself with a test drive, and the environment in which you will get to drive and work is second to none. We can't wait to see you driving off in your new Ram 1500 truck today!